Innovative container, with moving floor
The global logistics network is highly interconnected, efficient and optimized thanks to the use of intermodal containers. Each container must be loaded and unloaded, causing waste of time and income.
Our plus consists in the installation of a horizontal loading and unloading system on intermodal containers, allowing you to save time and increase the profits.
45' High Cube Open Top Pallet Wide innovative container moving floor in S-400 for highway – sea – railway transport. Weight, thanks to the use of very high yield strength steels, up to 7100kg.
competitive price thanks to hyper-technological production lines, available on standard versions, with central, waterproof and semi-waterproof door, 89 cubic meters, internal height 2,67 mt, 33 europallets, stackable up to 6 units, approved for XL, liftable by twist-locks for sea transport, soluble by the Hupac coupling mechanism for the railway, and empty, with forklift.
Approved for a maximum capacity of 29500kg, it is suitable for transporting all loose goods usually carried with moving floor.
The containers are guaranteed against corrosion for 5 years, able to work from -40 ° to + 80 °, they have been tested according to the stringent U.S.A. regulation for highway – sea – railway transport.
With our horizontal loading and unloading moving floor system, you can unload bulk material without overturning. The load compartment for palletized cargo is ideal for both large-volume freight and groupage along with mixed cargo.
Transporting bulk materials in rotation with palletized cargo, groupage or mixed cargo and partial loads is one of the greatest features of our semi-trailer moving floor.
Our moving floor container is perfectly customizable for every need!
Awarded Innovation Technology!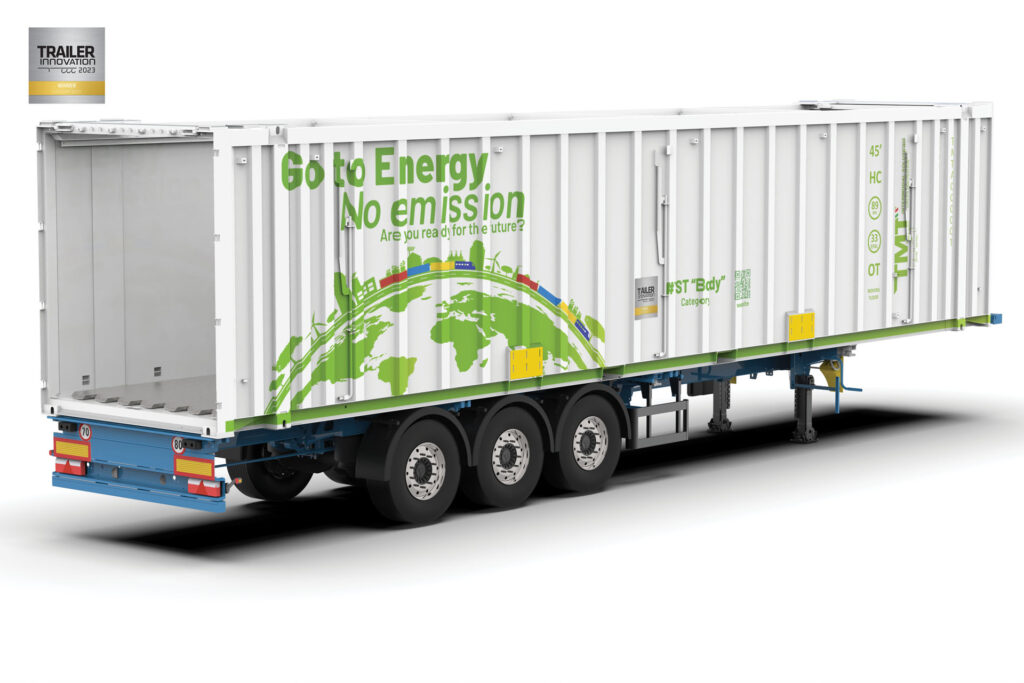 Container Moving Floor Highway-Sea-Railway 45' HC OPEN TOP
Container Moving Floor Highway-Sea-Railway 45' HC OPEN TOP
| | |
| --- | --- |
| VOLUME | 89mc / 33 europallet |
| CHASSIS AND LOAD-BEARING STRUCTURE | Container with moving floor |
| SUSPENSIONS | Cargo Floor®System |
| FLOOR | 21 alu profiles 6-8-10 mm |
| WALLS | plate 3mm in high strenght steel |


The current query has no posts. Please make sure you have published items matching your query.